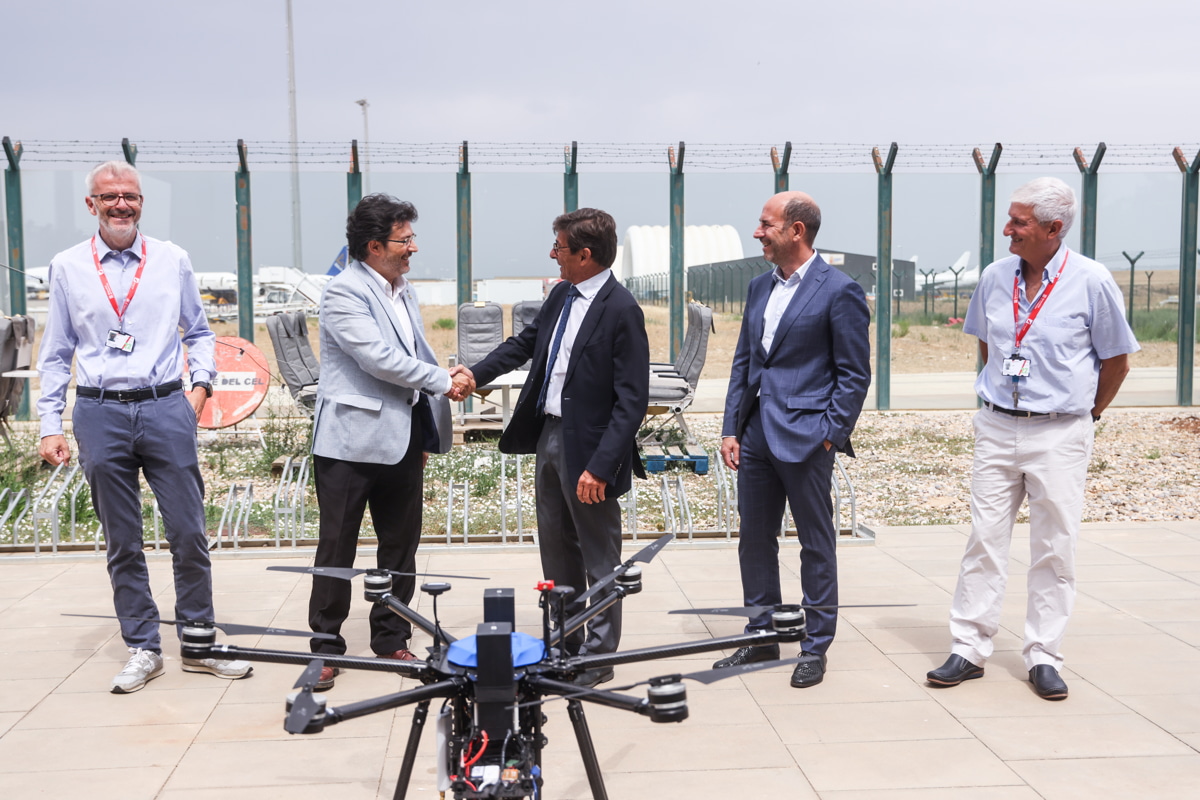 27 Jul

Lleida-Alguaire Airport will be a platform for certification and development of the drone industry / AAM (Advanced Air Mobility)

Aeroports de Catalunya, Applus + Laboratories and CATEC (Center for Advanced Aerospace Technologies) have today signed an agreement that will allow Lleida-Alguaire Airport to become a certification and development platform for the drone / AAM (Advanced Air Mobility) industry. The three entities agree in assessing that the future of the new technology applied to the aeronautical and aerospace world are drones, called Unmanned Aerial Vehicles; that this is a crucial sector to offer a more sustainable and decarbonised aviation, which urgently requires infrastructures that offer real test environments and development of AAM (Advanced Air Mobility) solutions. They agree to create synergies with other entities in order to offer future solutions for a safer, cleaner and quieter airspace.

Applus + Laboratories and the FADA-CATEC Center for Advanced Aerospace Technologies are interested in being able to count on the collaboration of Aeroports de Catalunya to jointly and structurally address their approach to the test market for flight authorization and certification of Unmanned Aerial Systems, taking advantage of the testing and certification capabilities of Applus +, CATEC facilities and Lleida-Alguaire airport. The main goal of this agreement is to constitute a unique offer for the validation and certification of drones in Europe, further enhanced by the excellent weather conditions of both FADA-CATEC flight facilities and Lleida-Alguaire airport facilities.

Both Applus + Laboratories and CATEC know the network of airports and aerodromes managed by Aeroports de Catalunya and especially the airport of Lleida-Alguaire, is an excellent platform, with an ideal location for the activities of certification, development, tests and demonstration by the Unmanned Aerial Vehicles (UAV) sector or otherwise known as Advanced Air Mobility (AAM). In this sense, they value very positively the current development plans of this airport aimed at consolidating it as a technological and testing platform for the aeronautics and space industry.

Lleida-Alguaire International Airport, certified by EASA (European Union Aviation Safety Agency) and AESA (Agencia Estatal de Seguridad Aérea), has the strategy of becoming a leading European platform for the development of new technologies in the aviation, the Advanced Air Mobility (AAM) sector and the space industries.

Aeroports de Catalunya attended the Fira Expodronica last June, where it presented two more projects that will make Lleida-Alguaire Airport a test base for integrating drone operations into airport environments. One of the actions presented corresponds to a European project, SAMVA, in which the Generalitat's public company participates jointly with the companies Ehang, Pildolabs, Thales Alenia Space, and Eliance and the Airports Region Council. On the other hand, Aeroports de Catalunya and Inmarsat, a British satellite telecommunications company, have signed an agreement to develop a test and demonstration center for cutting-edge ATM technologies (Lleida-Alguaire airport). of air traffic) and UTM (unmanned traffic management).