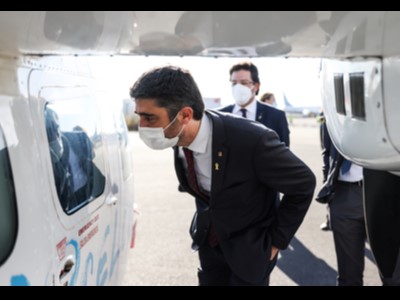 01 Mar

Lleida-Alguaire airport is gaining new space to enhance its industrial and aerospace use

The Catalan Territorial Commission has approved today a modification of the Special Plan of the Airport Lleida-Alguaire that will allow the construction of a hangar and two new buildings, one for formation and the other one for new start-ups to convert the installation at the Airport Air & Space Port Lleida-Alguaire. Specifically, the airport will gain 16,200 square meters of building roof.

The Vice President and Minister of Digital Policies and Territory, Jordi Puigneró, who visited the facilities, said that "with the urban changes we are making we can already say that this will be the only spaceport in Europe and the second rocket launcher propulsion test centre on the continent ".

The modification of the Special Plan will increase the number of companies linked to the aerospace sector. Thus, the urban modification will allow the construction of the hangar for maintenance activities of 6,400m2, with a capacity for two A320 / Boeing 737 type aircraft or one widebody aircraft, to be tendered in the coming weeks.

In addition, the construction of two new buildings is also planned. One, called the Campus Building, of 400 m2, dedicated to training activities, and a second, the Business Incubator Building / start-ups, also of 400 m2, dedicated to hosting companies in the aeronautics and the space used by Lleida airport as a testing laboratory.

In this sense, Puigneró emphasized that "Lleida-Alguaire is becoming the industrial, technological and aerospace airport of Catalonia and will be one of the most important in southern Europe in this area". "It must also be a pole of research and innovation as an engine of social and economic development for Catalonia," he said. "Barcelona, ​​Reus and Girona are airports to move passengers and face the tourist challenge, but it must be emphasized that Lleida is a benchmark in terms of technology and industry. If we look to the future, this is a bet as much or more important than that of passenger airports, "said the vice president.